Contact Us

Table of Contents

Search Site

Home



Also on this website:
Toby Johnson's books:
THE FOURTH QUILL, a novel about attitudinal healing and the problem of evil

TWO SPIRITS: A Story of Life with the Navajo, a collaboration with Walter L. Williams

GAY SPIRITUALITY: The Role of Gay Identity in the Transformation of Human Consciousness
GAY PERSPECTIVE: Things Our Homosexuality Tells Us about the Nature of God and the Universe
SECRET MATTER: updated, revised & expanded edtion from Lethe Press with Afterword by Mark Jordan

GETTING LIFE IN PERSPECTIVE
PLAGUE: A NOVEL ABOUT HEALING.

CHARMED LIVES: Spinning Straw into Gold: Reclaiming Our Queer Spirituality Through Story

Books on Gay Spirituality:

---
Articles and Excerpts:

Read Toby's review of Samuel Avery's The Dimensional Structure of Consciousness

Funny Coincidence: "Aliens Settle in San Francisco"
The Simple Answer to the Gay Marriage Debate

A Bifurcation of Gay Spirituality
Why gay people should NOT Marry

What's ironic

Shame on the American People

Q&A about Jungian ideas in gay consciousness
What Jesus said about Gay Rights
Interview on the Nature of Homosexuality
What the Bible Says about Homosexuality

Mesosexual Ideal for Straight Men

Varieties of Gay Spirituality

Waves of Gay Liberation Activity

Why Gay Spirituality: Spirituality as Artistic Medium

Easton Mountain Retreat Center
Andrew Harvey & Spiritual Activism

---
"It's Always About You"

The myth of the Bodhisattva Avalokitesvara

Joseph Campbell's description of Avalokiteshvara

You're Not A Wave
What is Enlightenment?
What is reincarnation?
Emptiness & Religious Ideas
Experiencing experiencing experiencing
Going into the Light
Meditations for a Funeral
Meditation Practice
The way to get to heaven
Advice to Travelers to India & Nepal
Nate Berkus is a bodhisattva
John Boswell was Immanuel Kant
---
The Joseph Campbell Connection

Campbell & The Pre/Trans Fallacy

Gay Spiritual Functions

The subtle workings of the spirit in gay men's lives.

The Sinfulness of Homosexuality
Proposal for a study of gay nondualism

Marian Doctrines: Immaculate Conception & Assumption

---
"The Evolution of Gay Identity"
"St. John of the Cross &
the Dark Night of the Soul."
Religious Articulations of the Secret

---
Teenage Prostitution and the Nature of Evil

Allah Hu: "God is present here"

Adam and Steve

The Life is in the Blood

Gay retirement and the "freelance monastery"
What are you looking for in a gay science fiction novel?

---
The mystical experience at the Servites' Castle in Riverside
The Great Dance according to C.S.Lewis

---
The Techniques Of The World Saviors
Part 1: Brer Rabbit and the Tar-Baby
Part 2: The Bodhisattva Avalokiteshvara
Part 3: Jesus and the Resurrection
Part 4: A Course in Miracles
---
How Gay Souls Get Reincarnated

In honor of Sir Arthur C Clarke

Toby's friend and nicknamesake Toby Marotta.

Harry Hay, Founder of the gay movement
About Karl Heinrich Ulrichs, the first man to really "come out"

About Michael Talbot, gay mystic

---
Book Reviews




The Gay Disciple by John Henson

Art That Dares by Kittredge Cherry

Coming Out, Coming Home by Kennth A. Burr

Extinguishing the Light by B. Alan Bougeois

Over Coffee: A conversation For Gay Partnership & Conservative Faith by D.a. Thompson

Dark Knowledge by Kenneth Low

Janet Planet by Eleanor Lerman

The Kairos by Paul E. Hartman

Wrestling with Jesus by D.K.Maylor

Kali Rising by Rudolph Ballentine

The Missing Myth by Gilles Herrada

The Secret of the Second Coming by Howard E. Cook

The Scar Letters: A Novel by Richard Alther
"A treasure to read"
-- W. Randy Haynes (Cherokee), author Cajun Snuff


"Can I tell you how many times I cried reading TWO SPIRITS? SO beautiful... like coming home."

-- Wade McCollum, singer "Beauty is a Streetlight"


". . . one of the most moving novels I have read in a very long time. . . It is still resonating with me."


-- John Caminiti, writer




Two Spirits: A Story of Life with the Navajo
Lethe Press, pb, 332 pages, $18.00

Two Spirits is an historical novel by Walter L. Williams and Toby Johnson.

With its sweet tale of inter-racial romance between a young Civil War survivor from Virginia and a Navajo berdache/two-spirit healer of the Old West, this novel demonstrates gender variance as a source of spiritual power and documents "same-sex marriage" as indigenous to the American continent.




To purchase TWO SPIRITS from amazon.com:

OR purchase from Toby Johnson using Paypal:



use this button to purchase by credit card through paypal.com (shipping included)

to purchase by check,
request autographed copy
OR
to order for international shipping, send email to tobyjohnso@aol.com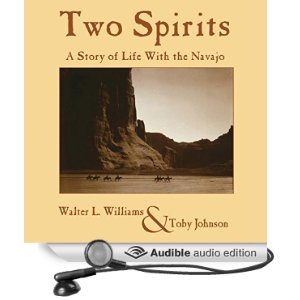 Two Spirits


is available as an audiobook narrated by Arthur Raymond.



Click here: Two Spirits - Audiobook





Two Spirits is available through gay & lesbian bookstores nationwide and on the Internet through all usual channels. Purchase and download PDF now!
Pay thought AmazonPayments
digital edition of Two Spirits $7.99
Read on computer or download to iTunes and
transfer to iPad or other ebook reader
——

Purchase and download EPUB now!
Pay through AmazonPayment
Digital edition priced at $7.99





ABOUT TWO SPIRITS



This novel, based in the historical facts of the fabled West, tells a tale of adventure of a young man from rural Virginia, assigned to be the Government Indian Agent on the Bosque Redondo Reservation in the desolate New Mexico desert after the Civil War.

In the 1860s, the Navajo Indians were held as virtual prisoners of war in an "experiment in Indian management" under the command of an unscrupulous Civil War general who was later removed because he had been swindling money sent by Washington for the Indians' food and lodging, making himself and his cronies rich at the Indians' expense and suffering.

This story recounts how the fictional Indian Agent develops a romantic relationship with a Two-Spirit medicine man among the Navajos, and so comes to appreciate personally the plight of the Indians on the reservation. The Two-Spirit Person is modeled on the revered character in certain Native American cultures who blends masculine and feminine genders into a kind of loving exemplar of the culture's spiritual values.

Through a series of adventures, shot through with Navajo mysticism, the two lovers expose the general's chicanery and bring about the Indians' return to their ancestral homeland in eastern Arizona. In the process, the young Virginian learns Native American spirituality and discovers a positive context for his own emotional and sexual development.

His marriage to his Two-Spirit partner demonstrates historical precedent for same-sex marriage on American soil. "Gay marriage" is not new to America. The indigenous cultures on this continent had honored same-sex relationships long before Europeans immigrated here.

TWO SPIRITS: A Story of Life with the Navajo was awarded a development grant in the Arch and Bruce Brown Foundation competition for Gay-positive Art Projects based on Historical Subjects.

The book includes an Afterword: About the Historical Accuracy of this Novel and A Commentary by Navajo/Dine' scholar Wesley Thomas.



From A WONDERFUL review on Jessewave by Cole:


"Lastly, I want to encourage those of you who, although you might think that this story sounds wonderful, are afraid to read it. It is true that this story is far from a typical story in the M/M genre, but the two essential things that make up a romance are present here: a sweeping love story and a HEA [Happy Ever After]. Yes, I admit I cried several times while reading this, often in frustration and sometimes with joy. I won't say that it was an easy story to read, because it isn't. I often had to put this book down and take it up later. But that was the key: I always wanted to pick it back up. And more than anything, I felt like I took a journey with the characters and they became my friends. What more can you ask for in a book?"


"Two-Spirit" is the term chosen by lesbian and gay Native Americans (at an international conference in Winnipeg, Manitoba in 1990) for gender variant men and women in indigenous cultures. These two-spirits were called "berdache" by French explorers (a term that is considered derogatory). In the Native cultures they were known by a variety of names, including (in English translation, of course) "Changing Ones," "One who is Transformed," "Those with Special Powers,""Spiritual Mediator," "Healer," also "Crossdresser"and "Male Woman," "Female Man."

In their native tongues, the Dinéh (Navajo) refer to them as nŕdleehé, the Lakota (Sioux) as winkte, the Mohave as alyha, the Zuni as lhamana, the Omaha as mexoga, the Aleut and Kodiak as achnucek, the Zapotec as ira' muxe, the Cheyenne as he man eh. The Two-Spirit terms itself comes from an Anishinabe/Ojibway term, nizh
manitoag.

While indigenous Two-Spirits were understood within the mythological and social context of their tribes as special beings, the identity parallels modern American, psychologically-tinged, or street-culture, terms for androgyny and androgynes like transsexual, transvestite, TS, TV, crossdresser, hermaphrodite, as well as T-boys, shemales, trannies, tranny, lady boy, drag queen, etc. The modern terms do not have the sense of honor and spiritual power that the Native American did.

An intention for this Western genre novel is to popularize the honorable quality of gender variance.

(Link to a very interesting article by Marlon Fixico on Being Two-Spirited Today)



ABOUT THE AUTHORS

Walter L Williams is author of the award-winning book THE SPIRIT AND THE FLESH: SEXUAL DIVERSITY IN AMERICAN INDIAN CULTURE. He has been professor of anthropology, history and gender studies at the University of Southern California, where he taught gay, lesbian, bisexual and transgender studies, and also American Indian Studies. He is past president of ONE Institute International Gay and Lesbian Archives, and is currently editor of the INTERNATIONAL GAY AND LESBIAN REVIEW. For the past two decades, he has been speaking on the berdache (now more preferably called Two-Spirit) phenomenon and has been well-received both by fellow anthropologists and by general audiences. THE SPIRIT AND THE FLESH is a basic staple of any gay reading list and is stocked in bookstores well beyond the network of gay stores.

For more info about Walter L. Williams, see Living Fully
Williams has a wonderful site with a modern re-presentation of the Teachings of Jesus.


Walter L. Williams has developed a language system which he calls engspan which makes it easier for people to learn both Spanish and English and which could function as a easy language for a globalized world.

engspan easy spelling part 1 introduction http://www.youtube.com/watch?v=txRQe0CNBSc&feature=relmfu

engspan easy spelling part 2 vowels
http://www.youtube.com/watch?v=rbbkf4s79a0

engspan easy spelling part 3 consonants http://www.youtube.com/watch?v=NBsJ-OqwAvc




Toby Johnson is a writer and former bookseller in the gay genre. He was a counselor in San Francisco in the 1970s and one of the developers of gay-oriented psychotherapy. For almost seven years, he and his partner operated Liberty Books, the lesbian and gay community bookstore in Austin. From 1997 to 2004 Johnson was editor and publisher of the small but respected quarterly journal of gay men's spirituality, WHITE CRANE. He has had published three gay novels and five non-fiction works about the ideas of renowned religions scholar Joseph Campbell. Johnson, only half-joking, refers to himself as "Joe Campbell's apostle to the gay community." His novel SECRET MATTER won a Lammy in 1990; in 1999, it was nominated for induction into the Gay Lesbian Science Fiction Hall of Fame in the first year of the competition, so one of five nominees out of all the gay and lesbian science fiction ever written.

Recently, with Kip Dollar, his partner of 23 years, Johnson has operated a gay Bed & Breakfast first in the Rocky Mountains and then in the Texas Hill Country. Kip and Toby were the first male couple registered as Domestic Partners in Texas.


For more info about Toby Johnson's books, see Toby's Books







There're two "Press Releases" about Two Spirits
Long Short

hi-res pdf file of front cover