Contact Us

Table of Contents

Search Site



~

Also on this website:
Toby Johnson's books:
GAY SPIRITUALITY: The Role of Gay Identity in the Transformation of Human Consciousness
GAY PERSPECTIVE: Things Our Homosexuality Tells Us about the Nature of God and the Universe
SECRET MATTER: updated, revised & expanded edition from Lethe Press with Afterword by Mark Jordan

GETTING LIFE IN PERSPECTIVE: A romance novel set in the 1980s and the 1890s.

THE FOURTH QUILL, a novel about attitudinal healing and the problem of evil

TWO SPIRITS: A Story of Life with the Navajo, a collaboration with Walter L. Williams

CHARMED LIVES: Spinning Straw into Gold: Reclaiming Our Queer Spirituality Through Story
PLAGUE: A NOVEL ABOUT HEALING.

About ordering

Books on Gay Spirituality:
White Crane Gay Spirituality Series
---
Articles and Excerpts:

Read Toby's review of Samuel Avery's The Dimensional Structure of Consciousness

Funny Coincidence: "Aliens Settle in San Francisco"
---
The Simple Answer to the Gay Marriage Debate

Why gay people should NOT Marry

What's ironic

Shame on the American People

---
A Bifurcation of Gay Spirituality
Q&A about Jungian ideas in gay consciousness
What Jesus said about Gay Rights
Common Experiences Unique to Gay Men
Is there a "uniquely gay perspective"?
The Reincarnation of Edward Carpenter
Interview on the Nature of Homosexuality
What the Bible Says about Homosexuality

Mesosexual Ideal for Straight Men

Varieties of Gay Spirituality

Waves of Gay Liberation Activity

Why Gay Spirituality: Spirituality as Artistic Medium

---
Easton Mountain Retreat Center
Andrew Harvey & Spiritual Activism
The Gay Spirituality Summit in May 2004 and the "Statement of Spirituality"
---
"It's Always About You"

The myth of the Bodhisattva Avalokitesvara


Joseph Campbell's description of Avalokiteshvara

You're Not A Wave

What is Enlightenment?

What is reincarnation?

How many lifetimes in an ego?

Emptiness & Religious Ideas

Experiencing experiencing experiencing

Going into the Light

Meditations for a Funeral

Meditation Practice

The way to get to heaven

Buddha's father was right


---
Advice to Travelers to India & Nepal
The Danda Nata & goddess Kalika
Nate Berkus is a bodhisattva
John Boswell was Immanuel Kant
The Two Loves
---
The Joseph Campbell Connection

Campbell & The Pre/Trans Fallacy
Gay Spiritual Functions

The subtle workings of the spirit in gay men's lives.

The Sinfulness of Homosexuality
Proposal for a study of gay nondualism

---
"The Evolution of Gay Identity"
"St. John of the Cross &
the Dark Night of the Soul."
Religious Articulations of the Secret

---
The Moulting of the Holy Ghost
The Hero's Journey as archetype
Marian Doctrines: Immaculate Conception & Assumption

---
Teenage Prostitution and the Nature of Evil

Allah Hu: "God is present here"

Adam and Steve

The Life is in the Blood

Gay retirement and the "freelance monastery"
---
The mystical experience at the Servites' Castle in Riverside
The Great Dance according to C.S.Lewis

---
The Techniques Of The World Saviors
Part 1: Brer Rabbit and the Tar-Baby
Part 2: The Bodhisattva Avalokiteshvara
Part 3: Jesus and the Resurrection
Part 4: A Course in Miracles
---
How Gay Souls Get Reincarnated

---
In honor of Sir Arthur C Clarke

What are you looking for in a gay science fiction novel?
---
---
Toby's friend and nicknamesake Toby Marotta.

Harry Hay, Founder of the gay movement
About Karl Heinrich Ulrichs, the first man to really "come out"

About Michael Talbot, gay mystic

---
Book Reviews




Be Done on Earth by Howard E. Cook



Pay Me What I'm Worth by Souldancer



The Way Out by Christopher L Nutter
The Gay Disciple by John Henson

Art That Dares by Kittredge Cherry

Coming Out, Coming Home by Kennth A. Burr

Extinguishing the Light by B. Alan Bourgeois

Over Coffee: A conversation For Gay Partnership & Conservative Faith by D.a. Thompson

Dark Knowledge by Kenneth Low

Janet Planet by Eleanor Lerman

The Kairos by Paul E. Hartman

Wrestling with Jesus by D.K.Maylor

Kali Rising by Rudolph Ballentine

The Missing Myth by Gilles Herrada

The Secret of the Second Coming by Howard E. Cook

The Scar Letters: A Novel by Richard Alther

The Future is Queer by Labonte & Schimel

Missing Mary by Charlene Spretnak

Gay Spirituality 101 by Joe Perez

Cut Hand: A Nineteeth Century Love Story on the American Frontier by Mark Wildyr

Radiomen by Eleanor Lerman

Nights at Rizzoli

by Felice Picano

The Key to Unlocking the Closet Door by Chelsea Griffo

The Door of the Heart by Diana Finfrock Farrar

Occam's Razor by David Duncan

Grace and Demion by Mel White

Gay Men and The New Way Forward by Raymond L. Rigoglioso

The Dimensional Stucture of Consciousness by Samuel Avery

The Manly Pursuit of Desire and Love by Perry Brass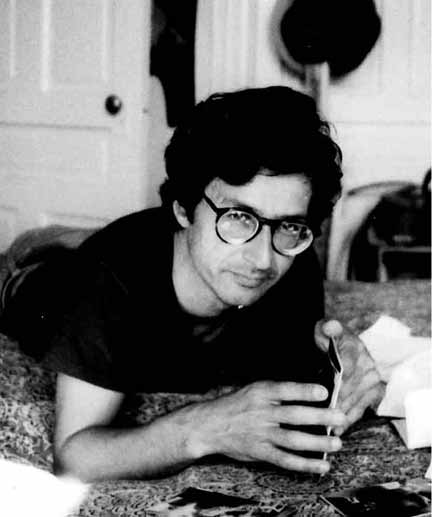 Guy Mannheimer

1943-1989

Guy Mannheimer was Toby Johnson's first lover. They met at a Gay/Straight Men's Gathering in San Francisco in Spring 1972 co-sponsored by Gay-Rap.

Guy was living in Menlo Park, CA at that time. He and about 6 other people, gay and straight, were living in a house--called Werder House (2100 Santa Cruz Ave. 94025)--that had previously been the home of members of The Grateful Dead. Toby used to hitchhike down the Pennisula to see Guy.

(Here's a link to a story about the house and the Grateful Dead: jerrygarciasbrokendownpalaces.blogspot.com/2012/09/the-chateau-2100-santa-cruz-avenue.html)

That next summer Toby was on staff at the Mann Ranch Seminars (see The Joseph Campbell Connection). About halfway through the summer, Guy joined him, and then remained on staff for the next three years. (Also on staff in those days was a wonderful woman named Marty Kent Jones.)





Mann Ranch Staff 1973 (?)
Guy on the left, then Toby, then Geri Olson, below Nina Winter, then Janice.

(The long haired blonde woman is Janice McHugh, a Canadian "undocumented alien"
living as a "hippie-chick" in San Francisco, who'd come to live in Toby's household on Arguello Street. We were dear friends.)




In 1973, partly because their friend Peter Goldblum was teaching in the training program--and partly because Toby had met Terry Carlson who was then working as a Psych Tech at Mt Zion Hospital Crisis Clinic and convinced him that was a good job--Toby and Guy moved to Napa and trained to become Licensed Psychiatric Technicians at Napa State Hospital.

In 1975 they returned to San Francisco, living in an apartment on 18th Street, between Noe and Sanchez, just down the block from the center of the Castro District. Toby got a job--as hoped for--at Mt Zion. Guy had found psychiatric nursing to be uncomfortable, and declined to follow that vocation track. During that time Guy discovered BAGL, Bay Area Gay Liberation, and then got Toby interested also. It was that involvement that indirectly led to Toby's work at the Tenderloin Clinic and the D.A.F.O.D.I.L. Alliance (perhaps the most important thing Toby Johnson actually ever did to affect the course of gay history).

After about six months, Toby and Guy parted amicably, though not without pain. They remained friends.


In the late 70s, Guy became partners with Dan Hampshire. They lived together until Guy's death from AIDS in 1989.

Guy was a second generation Holocaust survivor. He'd been born in a displaced persons camp in Switzerland. His father, an attorney, had returned to Germany to help other Jews get out of the country; he was arrested and died subsequently at Auschwitz. Guy's mother, Rita, remained in Switzerland with her two children. After the war, she moved to New York City where Guy grew up.

Guy's whole life was colored by her experience of losing everything. It tormented him AND it made him especially sensitive to others' suffering.



Guy in long johns bottoms,

400 Coombs St, Napa CA 1974


When Guy and Toby met, Guy was in growth-oriented psychotherapy with famed gay psychologist Don Clark. Clark was an important influence in both their lives.

in the 1970s, Guy studied calligraphy with an old Jewish wiseman in San Francisco. As an exercise he produced a sampler with a quote from EM Forster. Though the wording is slightly off, it's a wonderful quote. Toby Johnson used Guy's sampler as a frontispiece for his novel Secret Matter



Guy was surely an example of that aristocracy: sensitive, considerate and plucky.



Guy attended the First Radical Faerie Gathering in 1979.
Here he is in the famous photo of the mud ritual circle.**
I can tell it is he because he is wearing glasses. Guy was very dependent on his thick glasses.
We'd broken up a couple of years before and weren't seeing each other at that time.
(I see that is partly why I was not at that Gathering--too bad!)





Here's the panel for Guy in the AIDS Quilt. Note the pink triangle and yellow triangle combined to form a Mogen David.




**About the Mud Ritual:

When I was in seminary as a Servite in Chicago—at Catholic Theological Union on the periphery of the Univ of Chicago Divinity School—I was the "house liturgist" and composed a number of modernized rituals over the course of a year.

One of my classmates wrote me a couple of years ago saying he still remembered the Ash Wednesday ritual. Instead of having a single priest put the ashes on everybody's forehead, we all gave ashes to one another in the congregation (it was a group of about 15 or so), then we said the Miserere (Ps 51) and offered one another forgiveness and absolution.

THEN we did a second round with the ashes, but this time it was to wash the ashes off each other's forehead with white wash clothes in glass bowls of warm perfumed water. (And maybe recited Jesus's instructions about washing your face and not showing your religious devotion openly.)

One of the major events of that First Radical Faerie Gathering in 1978 was the mud ritual in which everybody got covered with mud by one another, then they washed/scraped it off each other--in Harry Hay's famous expression: "scraping off the ugly green frog skins" of normality and pretense.

There weren't any white washclothes at the Faerie Gathering, but, ah, for me, it is like an echo of the Servite ritual from 1969. Neat!








Guy organized a group of his, mostly Jewish, friends to celebrate an obscure holiday on Wednesday morning, April 8, 1981.

Birkat Hachama (ברכת החמה, "Blessing of the Sun") refers to a rare Jewish blessing that is recited to the Creator, thanking Him for creating the sun. The blessing is recited when the sun completes its cycle every 28 years on a Tuesday at sundown. Jewish tradition says that when the Sun completes this cycle, it has returned to its position when the world was created. Because the blessing needs to be said when the sun is visible, the blessing is postponed to the following day, on Wednesday morning. (from Wikipedia entry)

We climbed up to Corona Heights Park, a rocky crag above the Castro neighborhood, for sunrise. Here are three photos from that event. Guy is in the middle of the circle with the colorful knit cap and blue nylon quilted jacket. It was cold. I'm in the top two, so somebody else must have been taking the photos.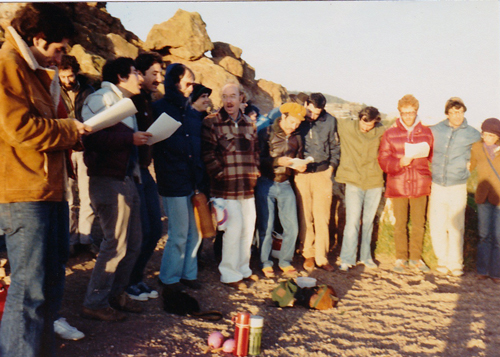 I recognize (I think) Hal Offen (3rd from right in washed blue jean jacket with wool collar), Larry Wisch, Dan Hampshire, David Axel, Ira Rudolph, Sam Blazer, Andy Rose, Guy Mannheimer, myself (in red frame glasses that have turned dark in the sunlight). I'm sorry to admit I don't recognize any of the women (and interesting that I am on the women's side of the circle).
About Esther Bell:


One evening in 1975, Guy and I had gone to a movie in the area of San Francisco called North Beach. It was cold and dark when we got out. We went down to the corner to wait for a bus. Already at the bus stop was a very old lady. She immediately engaged us in conversation, and then when the bus arrived asked for our help to get her up the steps. She had severe emphysema.
Over the next year, Guy and I became friends and occasional caretakers of the old lady. And after Guy and I broke up, I took over the job on my own. My oversight of her lasted about three years, after which her relatives had her put in a nursing home where she subsequently died, probably at age 90 or so.

Her name was Esther Bell. She entertained us with stories of her life. As a young woman, she'd been the jewelry and high couture buyer for I. Magnin's Department Store inn downtown San Francisco. She told how she regularly sailed on the Queen Mary steamship from New York to Marseilles to travel to Paris to seek out upscale merchandise. Occasionally she travelled with Mr. Magnin himself.

Esther also produced a line of her own jewelry, under the name Estabel.
She gave us some of her pieces (which unfortunately were later lost in a robbery of my home).
Most of the Estabel line was broaches -- most with a floral theme or insect theme: enamel pansies, for instance, and painted or enameled wasps.

Meeting Esther Bell was one of the highlights of our lives in San Francisco in those days.