Contact Us

Table of Contents

Search Site



~

Also on this website:
Toby Johnson's books:
GAY SPIRITUALITY: The Role of Gay Identity in the Transformation of Human Consciousness
GAY PERSPECTIVE: Things Our Homosexuality Tells Us about the Nature of God and the Universe
SECRET MATTER: updated, revised & expanded edition from Lethe Press with Afterword by Mark Jordan

GETTING LIFE IN PERSPECTIVE: A romance novel set in the 1980s and the 1890s.

THE FOURTH QUILL, a novel about attitudinal healing and the problem of evil

TWO SPIRITS: A Story of Life with the Navajo, a collaboration with Walter L. Williams

CHARMED LIVES: Spinning Straw into Gold: Reclaiming Our Queer Spirituality Through Story
PLAGUE: A NOVEL ABOUT HEALING.

About ordering

Books on Gay Spirituality:
White Crane Gay Spirituality Series
---
Articles and Excerpts:

Read Toby's review of Samuel Avery's The Dimensional Structure of Consciousness

Funny Coincidence: "Aliens Settle in San Francisco"
---
The Simple Answer to the Gay Marriage Debate

Why gay people should NOT Marry

What's ironic

Shame on the American People

---
A Bifurcation of Gay Spirituality
Q&A about Jungian ideas in gay consciousness
What Jesus said about Gay Rights
Common Experiences Unique to Gay Men
Is there a "uniquely gay perspective"?
The Reincarnation of Edward Carpenter
Interview on the Nature of Homosexuality
What the Bible Says about Homosexuality

Mesosexual Ideal for Straight Men

Varieties of Gay Spirituality

Waves of Gay Liberation Activity

Why Gay Spirituality: Spirituality as Artistic Medium

---
Easton Mountain Retreat Center
Andrew Harvey & Spiritual Activism
The Gay Spirituality Summit in May 2004 and the "Statement of Spirituality"
---
"It's Always About You"

The myth of the Bodhisattva Avalokitesvara


Joseph Campbell's description of Avalokiteshvara

You're Not A Wave

What is Enlightenment?

What is reincarnation?

How many lifetimes in an ego?

Emptiness & Religious Ideas

Experiencing experiencing experiencing

Going into the Light

Meditations for a Funeral

Meditation Practice

The way to get to heaven

Buddha's father was right


---
Advice to Travelers to India & Nepal
The Danda Nata & goddess Kalika
Nate Berkus is a bodhisattva
John Boswell was Immanuel Kant
The Two Loves
---
The Joseph Campbell Connection

Campbell & The Pre/Trans Fallacy
Gay Spiritual Functions

The subtle workings of the spirit in gay men's lives.

The Sinfulness of Homosexuality
Proposal for a study of gay nondualism

---
"The Evolution of Gay Identity"
"St. John of the Cross &
the Dark Night of the Soul."
Religious Articulations of the Secret

---
The Moulting of the Holy Ghost
The Hero's Journey as archetype
Marian Doctrines: Immaculate Conception & Assumption

---
Teenage Prostitution and the Nature of Evil

Allah Hu: "God is present here"

Adam and Steve

The Life is in the Blood

Gay retirement and the "freelance monastery"
---
The mystical experience at the Servites' Castle in Riverside
The Great Dance according to C.S.Lewis

---
The Techniques Of The World Saviors
Part 1: Brer Rabbit and the Tar-Baby
Part 2: The Bodhisattva Avalokiteshvara
Part 3: Jesus and the Resurrection
Part 4: A Course in Miracles
---
How Gay Souls Get Reincarnated

---
In honor of Sir Arthur C Clarke

What are you looking for in a gay science fiction novel?
---
---
Toby's friend and nicknamesake Toby Marotta.

Harry Hay, Founder of the gay movement
About Karl Heinrich Ulrichs, the first man to really "come out"

About Michael Talbot, gay mystic

---
Book Reviews




Be Done on Earth by Howard E. Cook



Pay Me What I'm Worth by Souldancer



The Way Out by Christopher L Nutter
The Gay Disciple by John Henson

Art That Dares by Kittredge Cherry

Coming Out, Coming Home by Kennth A. Burr

Extinguishing the Light by B. Alan Bourgeois

Over Coffee: A conversation For Gay Partnership & Conservative Faith by D.a. Thompson

Dark Knowledge by Kenneth Low

Janet Planet by Eleanor Lerman

The Kairos by Paul E. Hartman

Wrestling with Jesus by D.K.Maylor

Kali Rising by Rudolph Ballentine

The Missing Myth by Gilles Herrada

The Secret of the Second Coming by Howard E. Cook

The Scar Letters: A Novel by Richard Alther

The Future is Queer by Labonte & Schimel

Missing Mary by Charlene Spretnak

Gay Spirituality 101 by Joe Perez

Cut Hand: A Nineteeth Century Love Story on the American Frontier by Mark Wildyr

Radiomen by Eleanor Lerman

Nights at Rizzoli

by Felice Picano

The Key to Unlocking the Closet Door by Chelsea Griffo

The Door of the Heart by Diana Finfrock Farrar

Occam's Razor by David Duncan

Grace and Demion by Mel White

Gay Men and The New Way Forward by Raymond L. Rigoglioso

The Dimensional Stucture of Consciousness by Samuel Avery

The Manly Pursuit of Desire and Love by Perry Brass




1984


Partners since 1984, Kip Dollar and Toby Johnson have worked together in the gay cause in San Antonio, then in Austin, then out in the country in Conifer and Wimberley and then in cyberspace for White Crane Journal and Lethe Press.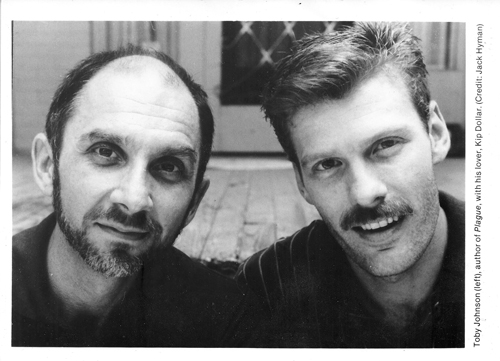 In the mid-1980s, Toby and Kip were living in San Antonio. Toby had been Secretary, then Male Co-Chair of SAGA (San Antonio Gay Alliance).

They were present for the start of San Antonio's gay business association, ABC, the Alamo Business Council. Here's a history of the origins of that organization.


Alamo Business Council History
In summer of 1984 a rep (maybe named Werner) from the National Association of Business Councils (NABC) based in New York City came to San Antonio to help organize a San Antonio business association. He contacted Michael Stevens who was editor of The Calendar (the publication of San Antonio Gay Alliance, the organization Michael Stevens founded in 1980. The Calendar started out as a SAGA newsletter but then became an independent publication distributed in gay community bars and businesses.

Michael called a group together to meet with the national organizer. We met in the late afternoon at Lollie Johnson's bar at 3503 West Ave, called LJ'z.

From that meeting the effort began to develop an organization aimed to strengthen the local gay community by identifying and connecting various businesses run by and for gay men and lesbians. It paralleled the Tavern Guild in the sense of being an association of business owners, but the Tavern Guild was simply bar owners, the business association would be for the rest of the community. In fact, these were the advertisers in The Calendar (mostly realtors).

There was a "Business Council Meeting" on Thursday August 9. Then after Oct 16, there was an ABC meeting 3 weeks in a row on Tuesday nights at 7:30 at Jim Halloran's home on Rosewood nr Fredericksburg. The meeting after Oct 23 were ReMax.

The original male and female co-chairs were Jim Halloran and Barbara Havard (Barbara's office was at the ReMax office behind the old Central Park Mall at Rector and Blanco). Kip Dollar was Treasurer of the original interim board (Kip's name is shown as the registrant for the assumed name certificate.) Vice-President was Hans Bloemen.

The initial meetings were at Jim Halloran's home on Rosewood. After a couple of those meetings, when it looked like there would be sufficient interest to forge ahead, Barbara Havard let us use the conference room in her ReMax office for general meetings. Meetings of the officers continued at Jim's house on Rosewood, where we worked on bylaws later put to general vote.

Among original members were (maybe?) Clark Niblock, Byron Trott, Russell McCauley, Dana DiCastro and Fred Idar, Barbara Havard and Julee French, Patrick Lombrano and Steve Parker, Michael Stevens and Patrick Kerr, Toby Johnson and Kip Dollar, Pat Westbrook, Rudy Gonzalez and John Mitchell, Cataria Reyes (sp?)…

Tues, Dec 4, there was an ABC meeting with Hap Veltman, an attorney and entrepreneur with prominence in both the gay and general communities. Hap was owner of the Bonham and previous owner the San Antonio Country. He was also a member of the Board of SAGA.

An early ABC event was a fairly large hotel dinner at which Hap was the Guest of Honor. It was held at the Marriott RiverWalk – one of the members Dana DiCastro was Director of food and beverage there and a number of gay community events happened at the Marriott. (That might be the Dec 4 event.) This was the first public subscription event for the ABC, and was both a PR vehicle (displaying the existence of the group and its ability to pull off the event) and a public service (acknowledgment of Hap's prominent role in the community). It was deemed a success that ticket sales covered costs with a modest profit.

A second public event produced by ABC was a bus trip to Lyle's Deck in South Padre Island in the Spring of 1985 (April 13th 1985). After planning had been completed but prior to the actual trip, Jim Halloran resigned as co-chair due to upcoming relocation for professional reasons. Hans Bloemen assumed the role of President.

Following the beach excursion ABC activities were confined to periodic meetings of the membership and activities directed to enlarging participation.

The emerging AIDS epidemic had a varied impact on the group. Initiatives such as the "Blood Sisters" campaign to encourage lesbians to donate blood to compensate for the prohibition of donation by gay men were not an official function of ABC but were largely overseen by ABC members and publicized using ABC communication channels. Likewise, the SAFE Week project originally begun by Jim Halloran to address public health issues (particularly STDs) in the gay population garnered much ABC support though it was not an official ABC project.

ABC activities began to taper off, probably due to a number of causes. Certainly the growing AIDS epidemic fostered concern and created stressors within the gay and lesbian as well as the general community, especially in the early days when little was reliably known about the illness and assumptions about transmission later proven false gained attention in the media. One of the other early presidents was Harold McKenzie. For a period the group became nearly dormant, existing in name but with little public activity.

The group was revived through the efforts of a new President, Russell Allen. Russell had moved to San Antonio from Houston to work for the San Antonio symphony. He had been very active with the Executive and Professional Association of Houston (EPAH, an organization with objectives similar to those of the ABC but with a much larger membership base and better developed management structure.) Russell capitalized on his EPAH connections to help strengthen ABC operations. There was a second trip to Lyle's Deck later. Russell Allen attended the second trip, I believe. There was also a group trip to Galveston; we went on a cruise ship (casino?) around Galveston Bay. And there was trip in 1985 to a party sponsored by EPAH at the home of a wealthy member near the Galleria.

Russell brought the model of Houston EPAH to San Antonio; he was invited by the ABC board to give a new burst of enthusiasm to ABC. He became the second or third president and revamped the organization into the social club it then became and flourished.




About SAGA -- the San Antonio Gay Alliance

When I arrived in San Antonio in Oct 1981 after a decade in San Francisco, Michael Stevens (with Patrick Kerr) was the head of SAGA. I rather quickly became a sort of protege because I'd been involved with gay activism in S.F.. I had just gotten a computer — an Apple II + — and volunteered to keep the mailing list. That was a major technological feat at that time. In that role, I was elected or appointed Secretary of SAGA.

I don't remember dates for now all this happened.

Michael started The Calendar as the newsletter of SAGA, then wanted to take it private and run it as a business (making its own income and not depending on SAGA). Michael retired from head of SAGA. Nancy Hauser and I were elected co-chairs.

Over several years, The Board included Hap Veltman, James Simmons, Dub Daugherty, Dana DiCastro, Rudy Gonzalez, Julee French, Martha Prentice (??), Barbara Havard (??), Lollie Johnson, Nicki Valdez, Byron Trott, David Mitchell (the attorney), Steve Parker, Steve Zurich (??) Tony Zule (??) Lynn Grainey (??) , John Moore, And, maybe, Franklin Raines and/or Francis Chiappetta. Tippy Timmons(???), Wayne Kinzel (??), Sonny Byrd, Ed Buckmaster.

My, that is lot of names. Maybe too many. Some of these may also have been board members for AHRC and/or the AIDS organizations

AIDS got very serious during this time; a lot of energy went into the two or three AIDS Foundations that developed (one under Beverly Smith, one under Papa Bear, and another sort of group under an Air Force M.D. at Lackland, maybe named John O'Neill, who was very active as an AIDS doctor in the Air Force.)

Under my leadership, along with Michael's original ideas, SAGA focused on visibility and getting news attention to the existence and plight of gay people and later people with AIDS.

As AIDS got bad, the Board determined this visibility campaign was potentially counterproductive and that SAGA should focus more on events within the gay/lesbian community and with supporting the AIDS organizations and not with making news or being openly gay. As the emphasis in the board change, I was urged by Dana DiCastro to step aside and let a new, less activist board take over.