Contact Us

Table of Contents

Search Site



~

Also on this website:
Toby Johnson's books:
GAY SPIRITUALITY: The Role of Gay Identity in the Transformation of Human Consciousness
GAY PERSPECTIVE: Things Our Homosexuality Tells Us about the Nature of God and the Universe
SECRET MATTER: updated, revised & expanded edition from Lethe Press with Afterword by Mark Jordan

GETTING LIFE IN PERSPECTIVE: A romance novel set in the 1980s and the 1890s.

THE FOURTH QUILL, a novel about attitudinal healing and the problem of evil

TWO SPIRITS: A Story of Life with the Navajo, a collaboration with Walter L. Williams

CHARMED LIVES: Spinning Straw into Gold: Reclaiming Our Queer Spirituality Through Story
PLAGUE: A NOVEL ABOUT HEALING.

About ordering

Books on Gay Spirituality:
White Crane Gay Spirituality Series
---
Articles and Excerpts:

Read Toby's review of Samuel Avery's The Dimensional Structure of Consciousness

Funny Coincidence: "Aliens Settle in San Francisco"
---
The Simple Answer to the Gay Marriage Debate

Why gay people should NOT Marry

What's ironic

Shame on the American People

---
A Bifurcation of Gay Spirituality
Q&A about Jungian ideas in gay consciousness
What Jesus said about Gay Rights
Common Experiences Unique to Gay Men
Is there a "uniquely gay perspective"?
The Reincarnation of Edward Carpenter
Interview on the Nature of Homosexuality
What the Bible Says about Homosexuality

Mesosexual Ideal for Straight Men

Varieties of Gay Spirituality

Waves of Gay Liberation Activity

Why Gay Spirituality: Spirituality as Artistic Medium

---
Easton Mountain Retreat Center
Andrew Harvey & Spiritual Activism
The Gay Spirituality Summit in May 2004 and the "Statement of Spirituality"
---
"It's Always About You"

The myth of the Bodhisattva Avalokitesvara


Joseph Campbell's description of Avalokiteshvara

You're Not A Wave

What is Enlightenment?

What is reincarnation?

How many lifetimes in an ego?

Emptiness & Religious Ideas

Experiencing experiencing experiencing

Going into the Light

Meditations for a Funeral

Meditation Practice

The way to get to heaven

Buddha's father was right


---
Advice to Travelers to India & Nepal
The Danda Nata & goddess Kalika
Nate Berkus is a bodhisattva
John Boswell was Immanuel Kant
The Two Loves
---
The Joseph Campbell Connection

Campbell & The Pre/Trans Fallacy
Gay Spiritual Functions

The subtle workings of the spirit in gay men's lives.

The Sinfulness of Homosexuality
Proposal for a study of gay nondualism

---
"The Evolution of Gay Identity"
"St. John of the Cross &
the Dark Night of the Soul."
Religious Articulations of the Secret

---
The Moulting of the Holy Ghost
The Hero's Journey as archetype
Marian Doctrines: Immaculate Conception & Assumption

---
Teenage Prostitution and the Nature of Evil

Allah Hu: "God is present here"

Adam and Steve

The Life is in the Blood

Gay retirement and the "freelance monastery"
---
The mystical experience at the Servites' Castle in Riverside
The Great Dance according to C.S.Lewis

---
The Techniques Of The World Saviors
Part 1: Brer Rabbit and the Tar-Baby
Part 2: The Bodhisattva Avalokiteshvara
Part 3: Jesus and the Resurrection
Part 4: A Course in Miracles
---
How Gay Souls Get Reincarnated

---
In honor of Sir Arthur C Clarke

What are you looking for in a gay science fiction novel?
---
---
Toby's friend and nicknamesake Toby Marotta.

Harry Hay, Founder of the gay movement
About Karl Heinrich Ulrichs, the first man to really "come out"

About Michael Talbot, gay mystic

---
Book Reviews




Be Done on Earth by Howard E. Cook



Pay Me What I'm Worth by Souldancer



The Way Out by Christopher L Nutter
The Gay Disciple by John Henson

Art That Dares by Kittredge Cherry

Coming Out, Coming Home by Kennth A. Burr

Extinguishing the Light by B. Alan Bourgeois

Over Coffee: A conversation For Gay Partnership & Conservative Faith by D.a. Thompson

Dark Knowledge by Kenneth Low

Janet Planet by Eleanor Lerman

The Kairos by Paul E. Hartman

Wrestling with Jesus by D.K.Maylor

Kali Rising by Rudolph Ballentine

The Missing Myth by Gilles Herrada

The Secret of the Second Coming by Howard E. Cook

The Scar Letters: A Novel by Richard Alther

The Future is Queer by Labonte & Schimel

Missing Mary by Charlene Spretnak

Gay Spirituality 101 by Joe Perez

Cut Hand: A Nineteeth Century Love Story on the American Frontier by Mark Wildyr

Radiomen by Eleanor Lerman

Nights at Rizzoli

by Felice Picano

The Key to Unlocking the Closet Door by Chelsea Griffo

The Door of the Heart by Diana Finfrock Farrar

Occam's Razor by David Duncan

Grace and Demion by Mel White

Gay Men and The New Way Forward by Raymond L. Rigoglioso

The Dimensional Stucture of Consciousness by Samuel Avery

The Manly Pursuit of Desire and Love by Perry Brass




Michael Stevens & Patrick Kerr and San Antonio's Gay Community in the early 1980s

San Antonio's gay and lesbian community has experienced a series of waves of organizational activity over the decades. Each of these has been influenced or characterized by a venture in publishing a community newsletter, newspaper or magazine. (Now that venture is showing up in the 2000s as the Internet webpage QSanAntonioNews.)
One such wave of organizing activity—that still reverberates today—happened in the early 1980s. (I had just moved back to San Antonio, my hometown, after a decade in San Francisco and was most pleased to discover a vital gay community alliance here and threw myself into the project with gusto.)

The originator of the San Antonio Gay Alliance (SAGA) and its associated media venture, The Calendar, was a former UTSA professor named Michael Stevens. Michael was one of those gay men whose personal struggles to claim his identity resulted in a great good and great change for the whole city.
Stevens was a Political Science instructor at the University of Texas here. He'd moved to San Antonio from his hometown Philadelphia with his wife Bernadette to take the job at UTSA. He and Bernadette were a modern sophisticated "liberated" couple; both strong individuals with strong interests in politics and community organizing and a commitment to honesty and openness. After a couple of years, as Michael began to discover within himself his homosexual identity, he and his wife split up amicably and maturely. And Michael and Bernadette were quite open with their friends and academic peers about the reason for their breakup. But when Michael applied for tenure at UTSA, he was turned down—apparently because of his newly formed and very public openly gay identity.
With the end of his job as a college teacher and the end of his marriage,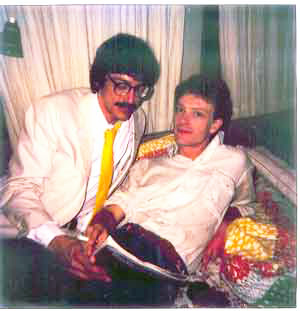 Stevens started a whole new life. He moved to a house in the gay neighborhood off San Pedro and developed a relationship with a former student and fellow activist Patrick Kerr. And Stevens vowed he'd use his political organizing skills to serve his new personal identity. Michael pulled together San Antonio gay business people (like Hap Veltman of The Country and The Bonham Exchange, Lollie Johnson of Faces, attorney David Mitchell, music entrepreneur Rudy Gonzalez and his partner John Mitchell, lesbian bar-owner Julee French and her partner realtor Barbara Havard) and previous gay activists (like Jim Eggling and Gene Leggett) to form the San Antonio Gay Alliance. And he and Patrick started publishing The Calendar, a little booklet-style gay bar rag with announcement s of SAGA activisties and local gay community events. (I joined up as Michael's protégé and SAGA secretary and manager of the very primitive computer database because I had a then cutting-edge Apple II Plus! Kip and I met, by the way, during that time partly because of my role in SAGA—but that's another story.)
That was a rich but tumultuous time in San Antonio. Several of the organizations that survive today in one form or another were founded during that period: the Alamo Business Council, Alamo Human Rights Committee, the Alamo City Men's Chorale, Esperanza, Gay Fiesta and PrideFest, and, of course, the San Antonio AIDS Foundation.

AIDS devastated the SAGA Board, taking such devoted activists as Dana DiCastro, Max Gillaspy, Dub Daugherty, Veltman, the two Mitchells—and both Michael Stevens and Patrick Kerr.
As I write this short recollection of Gay San Antonio of some 25 years ago, I am looking at an old and yellowed print-out of the SAGA mailing list. There are just too many names to mention (and I apologize for egregious omissions). So many of the people on that list are gone. But many of us are still around. And San Antonio is still benefiting from that wave of organizing activity. We owe Michael Stevens a debt of gratitude. For all that he lived a truncated life, he changed the world for us San Antonians.

Among those "still around" is our good friend Tom Nash. I've made up a page for him elsewhere on this site.