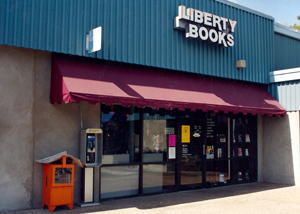 1986
- Tom Doyal founded Liberty Books & Liberty Press. The bookstore was at 11th and N. Lamar, behind Sound Warehouse Records, in a former repair bay of an auto dealership repurposed by Austin real estate development (and good guy) Perry Lorenz. (In 2016, the front building is Whole Earth Provisions.)
- Early on, Mark Weaver, a preacher with the American Family Association, picketed the store and brought media attention. Tom commented that "Mark Weaver was better than a dancing bear" to announce the opening of the bookstore.
1988
- about 18 months into the life of the store, in order to free him up to be attorney for the Lesbian/Gay Rights Lobby of Texas
and
Publisher of Liberty Press, Doyal invited Toby Johnson and Kip Dollar to buy the business from him. They moved from San Antonio to Austin and took over running the store in October 88.
- Tom's faithful employee, Kenneth Lloyd, stayed with the bookstore and trained Johnson and Dollar.
1988-1993
- The store flourished during this period -- a high point in gay genre publishing nationwide. Several new employees were hired who worked along with volunteers (mainly U.T. students), including Eric Ganther (who wrote a history of gay/lesbian Austin for a thesis in the History Dept & later the
Guidebook
to the Stevee Postman's
Cosmic Tribe Tarot Deck
). Liberty Books became one of the major lesbian/gay bookstores in the U.S. John Dulworth, who'd been manager of the successful gay cardshop Sparks, joined the staff as financial manager & buyer.
- During this period, Liberty Books was a sponsor of the Men's Movement spin-off, Shaman's Circle with its Radical Faerie-like gatherings in the woods.
- In those days, Liberty Books' bulletin board functioned like a "gay google," where gay/lesbian oriented businesses and services could post their business card. Those business cards formed the basis for an Austin gay-business association (called together by Curt Fowkles), which has grown into the Austin Gay/Lesbian Chamber of Commerce.
- Since Liberty Books was often the first stop for tourists, visitors and newcomers to the city to find out about gay Austin, Toby & Kenneth, who worked the front desk in the morning and late afternoon respectively, served as semi-official greeters to Austin's gay community. Kip was bookkeeper and business manager, and worked in the back office and so was a little less visible, though was the real talent behind the business operation.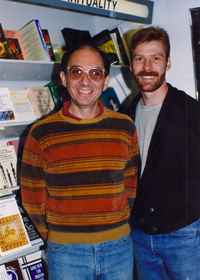 - It was store policy that Liberty Books should feel like a safe place you could bring your mother. That was partly because mothers--and a wide of variety of non-gay people--did indeed come to the store in search of information about AIDS. During the height of the health crisis, Liberty Books was an important resource. Liberty Books was catacorner to Castle Hill Cafe which at the time was one of the most popular restaurants in Austin (Ann Richards was a regular Castle Hill Cafe patron, noticeable coming through the parking lot by her big hair.). Part of the cafe's chic was that there was no waiting area inside, so people waiting for a table stood out in the parking lot and on the sidewalk looking into the bookstore's windows. In those days, Liberty Books was the "face of the community" to many Austinites.
- High points in that period for Dollar and Johnson also included performing in Doug Dyer's gay-activists musical-comedy review "I Pass for Straight" and the couple's being invited by LGRL to apply--and be turned down--for marriage licenses in 1991, and then being the first male couple to be Registered Domestic Partners in Travis County in 1993. (The first female couple, who actually registered first, was Dianne Hardy-Garcia and Mary Anne Messina. Dianne had been head of LGRL and had been behind the County's development of the Domestic Partnership registry.) Toby's popular and Lammy-winning sci-fi novel
Secret Matter
was published in 1990 by Lavender Press, a gay publisher in Connecticut, and
Getting Life in Perspective
the next year. Kip was one of the organizers of the first Gay Pride celebration,
Gay Fiesta
, at Fiesta Gardens in 1990, serving as Treasurer and Grand Marshal.
- Austin's revered and long-lived feminist bookstore
BookWoman, owned by Susan Post,
moved from Neches & 6th Street to 12th & Lamar, next to The Tavern and catacorner and down a block from Liberty Books. The two stores complemented one another and referred customers back and forth in a demonstration of lesbian/gay community cooperation. A history of BookWoman is included in the 2016-released book
The Feminist Bookstore Movement: Lesbian Antiracism and Feminist Accountablity
' by former BookWoman staffer Kristen Hogan.
1994
- Book People announced the opening of a new "Superstore"--with a gay/lesbian section almost as big as Liberty Books--five blocks down Lamar. (What was originally said would be 700 sq ft turned out in reality to be 70 linear ft of bookshelf.) AND Lobo Books from Houston announced they would be opening a store in Austin that would be primarily a video rental outlet catering to gay men, but would also stock books. Liberty Books did not carry the porn videos that were the bread and butter of Lobo's business, so the Houston store seemed like real competition for a limited market. Johnson and Dollar decided to "save" the store and the employees by selling the inventory to Book People and getting them to hire Liberty's staff.
- Just before that happened, Crossroads Market -- a Dallas-based gay bookstore that also had an outlet in Houston competing with Lobo -- reached out to buy Liberty Books to bring the competition between the two chains to Austin.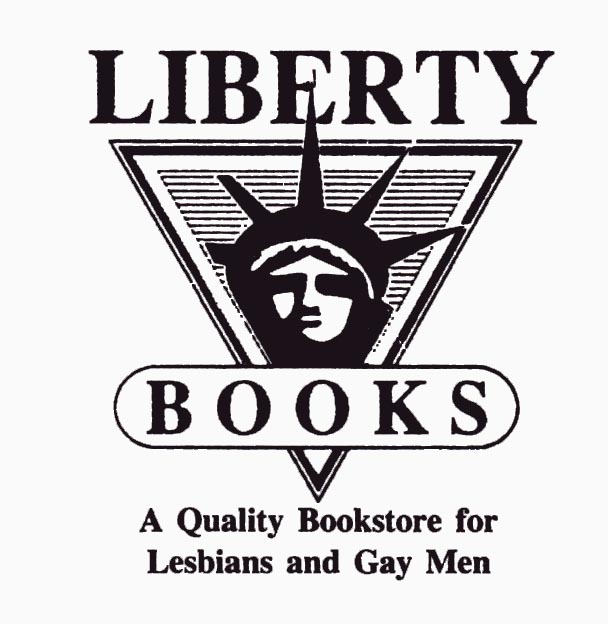 1994
- At mid-year, Crossroads Market purchased Liberty Books and, though they brought in an outside manager, kept the core staff. And kept the name Liberty Books because of its historic renown in Austin.
1996
- Crossroads operated the store for eighteen months, then closed it for good at the end of 1996.
The Liberty Books logo was designed by John Farmer. "Our Lady of Liberty"
Here's a photo of Armistead Maupin at a Liberty Books booksigning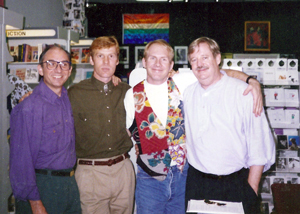 Toby Johnson, Kip Dollar, Terry Anderson, Armistead Maupin
-------------------
Chris Zimmerman Law
was the TWT representative for Austin in those days.
He has accumulated an extensive collection of photos.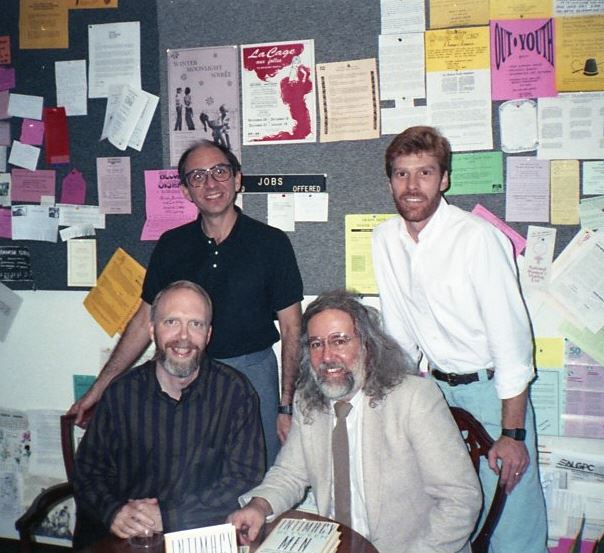 Here's Psychologists Stephen Finn and John Driggs signing copies of their 1991 book
Intimacy Between Men
Behind them all is the famous Liberty Books Bulletin Board